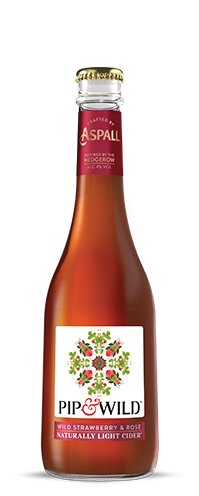 Pip & Wild Strawberry & Rose
4.0% ABV
Story
Crafted by our master cider maker and inspired by the hedgerow, Pip & Wild is a naturally light, premium fruit flavoured cider*.
* 30% less calories than the best-selling premium fruit flavoured ciders.
Product Descriptor
A harmonious marriage of wild strawberry and fresh floral notes of rose. Made from apple cider with strawberry juice, rose extract and natural strawberry flavour, Pip & Wild is a perfectly balanced cider with a crisp, refreshing, fruity taste.
Serving Suggestion
Chill and pour into a tumbler over ice. Add slices of fresh strawberry to enhance the wild and intriguing flavours.
Dietary Information
No artificial colours or flavours. Suitable for coeliacs, vegetarians and vegans. Contains sulphites to preserve freshness.
AVAILABLE TO BUY FROM OUR OWN SHOP
AVAILABLE AT THE FOLLOWING RETAILERS