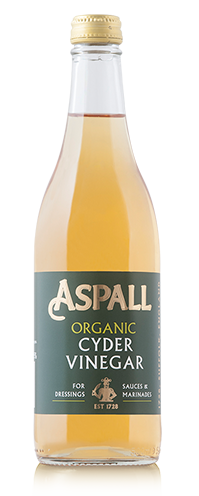 Aspall Organic Cyder Vinegar
Story
Crafted from a special blend of organically grown dessert and cyder apples, this vinegar is a versatile British gem with a myriad of uses, from healthy living to great cooking.
Taste Descriptor
Aspall Organic Cyder Vinegar is matured over time and bottled unpasteurised to produce a beautifully delicate apple flavour and a pleasant, clean finish.
Serving Suggestion
For a simple vinaigrette, thicken 2tbsp of Aspall Cyder Vinegar with 6tbsp of olive oil, add 1tsp of honey with a dollop of wholegrain mustard and season to taste.
Dietary Information
Suitable for coeliacs, vegetarians & vegans.
Awards
Great Taste 2020 (1 gold star), Silver Nourish Award 2022 (Cupboard Essentials)