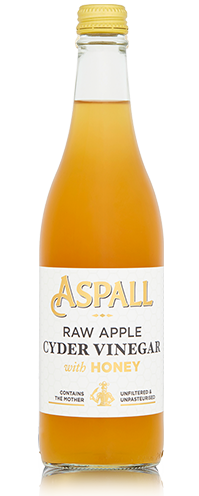 Aspall RAW Apple Cyder Vinegar with Honey
Story
Unfiltered and unpasteurised, Aspall Raw Apple Cyder Vinegar with Honey retains the friendly bacteria known as the 'mother', celebrated for its potential health benefits."
Taste Descriptor
Our skilful blending of apple cyder vinegar with carefully selected 100% natural and unpasteurised bee's honey, produces a rich and sweet balanced flavour with a fresh apple taste.
Serving Suggestion
Dilute to taste in warm or cold still or sparkling water for a daily health tonic (try adding rejuvenating ginger and lemon too) or use to create delicious dressings, marinades and sauces.
Dietary Information
Suitable for coeliacs and vegetarians.
Awards
Great Taste 2022 (2 gold star)