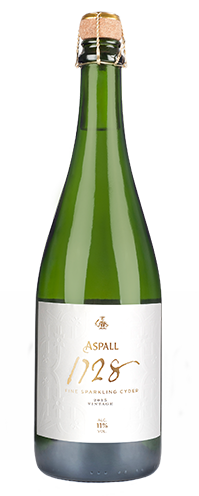 Aspall 1728 Cyder
11.0% ABV
Story
Inspired by the date of our founder Clement Chevallier's arrival at Aspall Hall, this bottle-fermented sparkling cyder revives a method pioneered by English cyder makers that went on to inspire the invention of Champagne. 1728 is a limited-edition sparkling cyder, matured in the bottle for a finer bubble, a creamier mousse and outstanding flavour.
Taste Descriptor
A carefully chosen blend of culinary and bittersweet apples provides optimum acidity levels and creates its elegant and refreshing citrusy flavour. With ageing, Aspall 1728 becomes increasingly full-bodied and complex, with an aroma reminiscent of brioche or toast.
Serving Suggestion
Serve chilled in a champagne flute.
Dietary Information
Suitable for coeliacs, vegetarians and vegans. Contains Sulphites
Awards
Gold Medal at the Harpers' Global Design Awards 2016