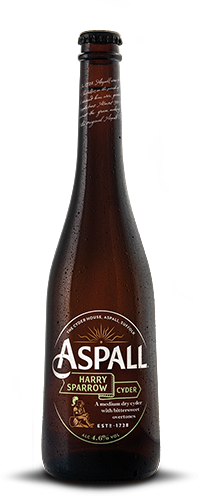 Aspall Harry Sparrow Cyder
4.6% ABV
Story
We named this after our beloved Harry who combined Suffolk charm with French cyder making heritage to create hand crafted cyders for over 50 years.
Taste Descriptor
Harry Sparrow is a refreshingly bittersweet cyder with hints of cedar wood and apple blossom. Crafted at the original Cyder House, Suffolk. Medium dry and sessionable with a floral aroma and cedar overtones of apples.
Serving Suggestion
Ideal with green Thai curry, Moroccan tagine, braised beef & red cabbage, and Greek salad with feta.
Dietary Information
Suitable for coeliacs, vegetarians and vegans. Contains Sulphites
Awards
Great Taste Award (1 star) 2018, British Bottlers Institute 2013 (gold), Cool Brand 2016/7