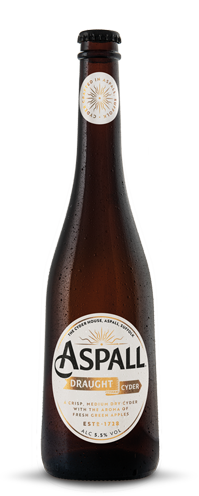 Aspall Draught Cyder
5.5% ABV
Story
Created to celebrate 275 years of cyder making by 8th generation brothers Barry and Henry Chevallier Guild. Draught is a crisp, medium dry cyder with a delicate aroma and taste of fresh pressed apples. Crafted at the original Cyder House, Suffolk.
Taste Descriptor
Fruity, dry, racy, thirst-quenching, lip-smacking.
Serving Suggestion
Lovely with sweet & sour pork, balti and bhuna mild curries, chicken with tomato & sweet red peppers, and Bramley apple pie.
Dietary Information
Suitable for coeliacs, vegetarians and vegans. Contains Sulphites
Awards
Great Taste Award (2 stars), 2018, International Cider Challenge 2014 (silver), British Bottlers' Institute 2011 (gold)
Gallery